Exceptional Orthopedic Care in New Jersey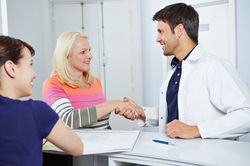 At New York Spine and Sports Surgery, we provide high quality service in sports medicine and orthopedics to New Jersey. Dr. Aron Rovner is an award-winning orthopedic surgeon, specializing in adult and pediatric spine surgery. In addition to treating low back pain and cervical conditions, he is also very experienced in caring for knee and shoulder injuries. He offers a number of non-surgical treatment options, and will pursue surgery only after other therapies have been unsuccessful. Together with his entire staff, he is committed to using the latest technology to decrease your pain, increase your mobility, and return you to your normal activity level. To learn more, schedule your consultation today.
Our Office
We have three locations in the New Jersey and New York City area: Saddlebrook, Fort Lee, and Hackensack, NJ and Garden City, NY. Each of our locations is staffed by a warm and knowledgeable support team. We offer bilingual services, and we will be happy to help you determine your insurance coverage. Our entire staff provides professional and effective medical care in a relaxing environment. We are committed to taking the time to ensure that you understand all your options and procedures, and work hard to make you feel comfortable and never rushed.
Our Treatment
When you visit New York Spine and Sports Surgery, Dr. Rovner may begin your treatment with conservative, non-surgical care. You may be referred to an experienced physical therapist who can help you increase strength, stability, and range of motion in the affected area. Dr. Rovner may also provide you with oral medications or anti-inflammatory treatments, including intra-articular and sacroiliac injections, as well as radiofrequency ablation. If these treatments do not prove effective, minimally invasive surgery can be pursued. With a specialty in cervical procedures and lumbar surgery, Dr. Rovner performs outstanding spine operations, and is also renowned for his skill in shoulder and knee surgery.
Our Technology
We proudly use the latest technology to ensure that your treatment is as safe, comfortable, and efficacious as possible. We utilize the most advanced imaging technology, allowing us to make accurate diagnosis and provide exceptionally precise care. Whenever possible, Dr. Rovner performs minimally invasive surgery, and thanks to these state-of-the-art techniques, you can enjoy negligible scarring and a speedier recovery.
Meet Dr. Rovner
Dr. Rovner has trained at some of the finest medical and educational institutions in the country. After receiving his bachelors at Rutgers University, he obtained his MD at SUNY Health Science Center of Brooklyn. He then completed his residency at Montefiore Medical Center at the Albert Einstein College of Medicine in the Bronx. Following an Adult and Pediatric Spine Surgery Fellowship at the Baylor College of Medicine in Houston, he went into private practice. Since that time, he has been awarded the "Patients' Choice Award" four times, and from 2011 to 2013 was named one of "America's Top Orthopedists" by the Consumer's Research Council of America.
Schedule an Appointment
Come see why Dr. Rovner has been recognized for his outstanding care and surgical skill. Call New York Spine and Sports Surgery today to book your consultation.