Herniated Disk Surgery Options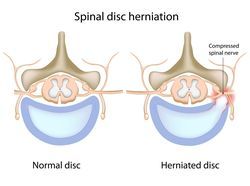 Dr. Aron D. Rovner offers multiple treatment options to alleviate the pain of a herniated disc. If non-surgical treatments have not been effective, Dr. Rovner may recommend herniated disc surgery at our New Jersey practice. Dr. Rovner has experience in the latest minimally invasive spine surgery techniques, including microsurgery and endoscopic methods. If you have been diagnosed with a herniated disc, or if you are experiencing symptoms such as arm or leg pain, numbness and tingling, or muscle weakness, please contact our office to make an appointment with Dr. Rovner.
Preliminary Non-surgical Treatments
Before recommending any type of spine surgery, Dr. Rovner will first try to find an effective non-surgical solution. We will typically begin with modification of your activity level to reduce stress on your back. There are several medications that can provide pain relief and reduce inflammation. If the pain or discomfort is severe, we can use steroid injections to alleviate the symptoms. Many patients find relief through these methods, but if your pain persists, there are surgical options available.
Minimally Invasive Surgical Options
Dr. Rovner performs herniated disc surgery on an outpatient basis, meaning you will not need to stay overnight in the hospital. Using the latest endoscopic techniques allows him to perform these surgeries using smaller incisions. As a result, recovery and healing following endoscopic surgery are much faster compared to open surgery. Herniated disc surgery options include:
​​​​​​​
Endoscopic Microdiscectomy: This approach involves removing the herniated disc to relieve pressure on the nerves and relieve the painful symptoms.
Laminectomy: Each vertebra has a lamina, which is a plate covering the spinal canal. This procedure is designed to remove the lamina, relieving pressure and discomfort.
Laminotomy: This procedure involves only removing a portion of the lamina.
Foraminotomy: Dr. Rovner can remove a portion of vertebral bone to relieve pressure on the spinal nerves that extend outward to the body.
Lumbar Fusion: Lumbar fusion is designed to reduce pain by fusing two vertebrae in the lower spine, restricting movement.
Anterior Cervical Discectomy and Fusion (ACDF): ACDF is performed to alleviate pain, numbness, and tingling by removing the affected disc from the upper spine to relieve pressure on the spinal cord. Following removal of the disc, the vertebrae above and below the space are fused to restrict movement and maintain relief.
Anterior Cervical Corpectomy and Fusion: This procedure is performed when cervical disease affects more than just the disc space. It involves the removal of the vertebral body as well as the disc spaces on either side to decompress the cervical canal and provide relief. Finally, the vertebrae above and below the treatment area are fused.
Cervical Disc Replacement: In some cases, Dr. Rovner may recommend replacing the disc with an artificial disc device designed to cushion and absorb shock.
Make a Herniated Disc Appointment
If you have received a herniated disc diagnosis, or if you are experiencing herniated disc symptoms, please contact our office to schedule a consultation with Dr. Rovner. During an in-depth consultation, Dr. Rovner will analyze your spine and recommend the best treatment to meet your needs.