How to Choose an Orthopedic Surgeon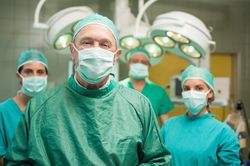 You have more than 300 bones and joints in your body, and you rely on them all to be functioning as they should. If not, you could experience problems with your movement, instability when standing or walking, difficulty performing everyday activities and chronic pain. In short, your quality of life may be seriously affected.
An orthopedic surgeon is a physician who is devoted to the diagnosis, treatment, prevention and rehabilitation of problems with the body's musculoskeletal system – our bones, joints, ligaments muscles, tendons and the nerves associated with them. This can include injuries as well as disorders and diseases.
If you have experiencing problems with any part of your musculoskeletal system, an orthopedic surgeon is the best person to provide you with the treatment you need. However, for you to achieve the best possible outcome from your treatment you need to find a competent and successful surgeon that you feel you can trust.
Ask for referrals
Asking for referrals is possibly the easiest way to find a decent surgeon. Speak to your primary care doctor or insurance provider and ask for a referral list. This provides a good starting point from which to start your research. If you know anyone who has needed similar surgery before, you should also ask them if they can make a recommendation, or potentially, let you know of a surgeon that you should avoid.
Begin the process by checking out their credentials and reviews online and use this to narrow down your list. Once you have a handful of surgeons shortlisted, call their offices and arrange to meet with each. This will give you an opportunity to assess their facility and the people who work there.
Checking out their credentials
Board certification is an important thing to consider when it comes to choosing an orthopedic surgeon. While it is possible to be qualified and experienced and not be board-certified, certification shows that the surgeon in question has proven beyond reasonable doubt that they are capable of performing at the high levels expected by the board. It also confirms that they have no history of disciplinary actions or malpractice claims raised against them.
The three most common associations are:
American Academy of Orthopaedic Surgeons
American Association of Hip and Knee Surgeons
American Medical Association
Ask about their experience
Education can only teach a surgeon so much and most would agree that their biggest learning curve was applying this knowledge in actual surgery. The greater the experience your chosen surgeon has, the more likely they are to be able to handle your case successfully and react appropriately to situations that aren't quite 'textbook'.
Checking out the facility
Your doctor's hospital is your hospital for the duration of your surgery, and so it is essential that you are happy with the quality of the facility. Hospital quality matters because patients at top-rated hospitals tend to have fewer complications and faster rates of recovery.
You should also consider the proximity of the hospital to your home. You may need to stay in for several days after your procedure and make multiple visits as part of your recovery and rehabilitation, so you should ensure you choose a hospital in a convenient location.
Bedside manner
When you are putting your health in the hands of a relative stranger, it is essential that you choose someone who you feel that you can trust. A great orthopedic surgeon will be happy to take the time you need to discuss your case and put your mind at rest about any concerns that you have. He/she should be able to communicate well with you, listening as well as advising, and answer your questions in a clear, concise way that leaves you feeling confident that you are in safe hands.
When you meet with a potential surgeon you might like to ask questions about:
Their success rate
Their experience with cases similar to yours
What technology they use
Whether they offer minimally-invasive techniques
What the benefits and risks associated with your procedure are
When it comes to choosing an orthopedic surgeon, it is essential that you take your time, do your research and ask all the questions that you need to in order to feel satisfied that you will get the treatment and care that you deserve, as well as the best possible outcome from your surgery.
Our highly respected, board-certified orthopedic surgeon, Dr. Aron D. Rovner, is delighted to be able to deliver conventional and arthroscopic orthopedic surgery to patients suffering from musculoskeletal problems. For more information or to schedule your confidential consultation, please call any of our offices today.