Spondylolisthesis Treatment to Relieve Back Pain
New Jersey - Spondylolisthesis Treatment
Jan 22, 2015 @ 10:00 AM — by Aron D Rovner, MD 
Tagged with: Back Pain | Surgery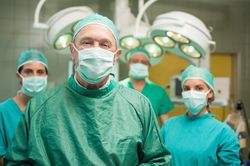 The back and spinal cord are important parts of the body, and are involved in most of our movement and activity. Unfortunately, the bones of the spinal cord are intricately related, and this can lead to pain or injury if one of the bones becomes damaged or slips out of place. One back condition that is fairly common among our New Jersey patients is spondylolisthesis. Dr. Aron Rovner offers treatment to relieve the pain and discomfort of spondylolisthesis, which includes lumbar spine surgery to alleviate spinal cord and nerve pressure and improve mobility for patients.
What Is Spondylolisthesis?
Spondylolisthesis is a condition that usually occurs in the lumbar, or lower back. This condition may be caused by any number of factors, including a congenital defect, an accident or injury, a stress factor, or an infection of the joints (such as arthritis). Essentially, this condition describes a situation in which one of the vertebrae of the back slides out of place so that it sits in front of or behind the vertebrae below it. This can cause a narrowing of the spinal canal and place pressure on nearby nerve roots. Spondylolisthesis can result in a number of uncomfortable symptoms, including pain in the lower back, buttocks, and one or both legs, numbness in the legs, difficulty walking, and, in severe cases, a loss of control of the bladder and/or bowels.
Treating Spondylolisthesis
In most cases of spondylolisthesis, it is best to begin with conservative treatments. Some conservative forms of treatment for spondylolisthesis include the following:
Rest and avoidance of physical activities such as bending and twisting
Physical therapy to improve core strength
Weight loss in overweight patients
Use of anti-inflammatory medication
Epidural steroid injections
Many patients are responsive to these conservative forms of treatment and experience a significant improvement in mobility along with relief from back and leg pain.
For those patients with more severe symptoms of spondylolisthesis or for those who are not responsive to conservative treatment, it may be necessary to consider spinal surgery. Even when it comes to spinal surgery, Dr. Rovner performs the most conservative surgical techniques. These methods ensure that patients benefit from smaller incisions, less blood loss, less pain, and a shorter recovery period. As far as spinal surgery goes, there are many surgical techniques to consider and each procedure will be determined based on the patient's symptoms and physical condition. However, when it comes to treating spondylolisthesis, the most common surgery is a lumbar fusion. During a lumbar fusion, all or part of the damaged vertebrae will be removed before fusing the adjoining discs to a bone graft or synthetic substitute. This procedure can restore mobility to those suffering from spondylolisthesis and will relieve physical discomfort as well.
Contact Us
Back pain can be greatly affect a person's quality of life and ability to perform day-to-day functions. If you are living with constant back pain, contact us to learn more about the treatment options that are offered by orthopedic surgeon Aron Rovner. We can help you address back pain so that you can once again enjoy an active and pain-free life. We look forward to hearing from you!