Cervical Spine Surgery Recovery
After undergoing cervical spine surgery, patients can experience significant relief in their neck, shoulders, and arms within two to six months. Dr. Aron Rovner is an award-winning orthopedic surgeon who specializes in spine surgery. Whenever possible, he uses minimally invasive techniques to expedite recovery. Following cervical spine surgery at our New Jersey and New York practice, Dr. Rovner works closely with patients to ensure that they heal properly, and that they will be able to return to the physical activities essential to their livelihood and overall quality of life. To learn more about what to expect following your spine surgery, please contact us and schedule your initial consultation.
After roughly two to six months, patients can expect a much improved quality of life.
Immediately following Surgery
Upon waking from surgery, many patients report immediate improvements in their pain level. However, because the muscles and soft tissue that surrounds and supports the neck still require strengthening, the full benefits of the procedure will not be completely experienced until the patient has undergone several months of rehabilitation.
The Day after Surgery
The day following the procedure, patients may be able to sit on the edge of the bed, or stand up with the assistance of a physical therapist. At this stage, it is important to be patient and follow the instructions and guidance of Dr. Rovner and his staff. We will provide you with a cervical brace that should be worn until you have been instructed to remove it. We will also help change your dressings and bandages, check the circulation in your legs and feet, and use ice packs to help reduce swelling. Antibiotics may be given intravenously to help prevent infection, along with pain medication to make the immediate recovery more comfortable.
The Days and Weeks following Surgery
In the days and weeks following your procedure, you can expect to have some minor pain and discomfort around your neck, but it should subside along with the swelling. During this time you will also wear a neck brace, and will be encouraged to practice some deep breathing and engage in some minor physical therapy.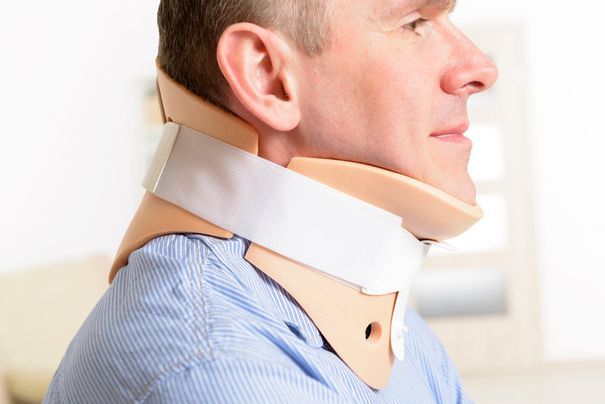 A cervical (neck) brace will be provided to aid your recovery.
After about four to six weeks, you can begin increasing your walking distances gradually each day. It is important to understand that the process can be slow, but with perseverance, you will experience improvement. In the months following the procedure, you may still experience some discomfort. It is important to listen to your body and halt any activities that may be causing you pain. Before returning to any strenuous activities, please contact Dr. Rovner.
Contact Us Today
If you are suffering with neck or back pain, schedule a consultation with Dr. Rovner. He can diagnose the cause of your discomfort, suggest treatment options, and help you understand exactly what to expect before, during, and after treatment. Recovery following a cervical spine procedure takes time, but with Dr. Rovner's guidance, you can expect to eventually experience significant benefits.