Improve Your Comfort and Mobility with Cervical Spine Fusion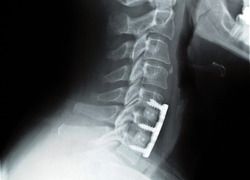 Patients suffering from neck pain caused by pressure on the spine can find relief from their symptoms with a cervical spine fusionprocedure. With four office locations in Saddlebrook, New Jersey the greater New York City area, renowned surgeon Dr. Aron D. Rovner can provide you with outstanding therapy to overcome your discomfort. If more conservative, non-invasive treatment options have been exhausted, Dr. Rovner can perform an effective cervical spine fusion procedure that could greatly improve your quality of life. To schedule an appointment and learn more about our treatment options for neck and back pain, please contact our practice today.
Understanding Cervical Spine Fusion
Cervical spine fusion is a surgical procedure that joins two or more vertebrae together. The procedure can be performed as part of a cervical discectomy (disc removal), or cervical corpectomy (removal of vertebrae).
During the procedure, an incision in the front of the neck will be made, and a damaged disc, bone spurs, or in some cases, a damaged vertebra, will be removed. Supplementary bone tissue is then grafted onto the treatment area. This bone tissue may be grafted from another part of the patient's body (autograft), or donated as part of an allograft procedure. Alternatively, synthetic materials may be used. In some cases, metal plates may also be placed for added stability. During the healing period, the grafted tissue or synthetic material will stimulate new bone growth, and fuse the vertebrae together over the next six to twelve months.
Determining Your Candidacy
Dr. Rovner will only recommend surgery after other non-invasive treatment options have been exhausted. Patients who continue to experience severe discomfort, decreased mobility, and other symptoms after undergoing non-surgical treatment, such as physical therapy, may receive a recommendation for cervical spine fusion to treat:
Cervical degenerative disc disease
Nerve root compression, or pressure on the nerve due to a bone spur, tumor, ruptured disc, or other factor
Spinal deformities
Misalignment of the vertebrate
Neck stabilization for vertebral damage caused by trauma, inflammation, or certain medical conditions
Cervical spine fusion may also be necessary as part of a cervical corpectomy to support the spine following a vertebral fracture, preventing spinal cord damage and possible paralysis.
Weighing Benefits and Risks
In some cases, cervical spine fusion is the most effective treatment to overcome ongoing and severe neck pain and radiculopathy, or a nerve condition that causes numbness or weakness in the arms. Most patients can enjoy increased comfort and mobility following their surgery, and often return to their previous activity level after healing is complete.
As with any surgical procedure, cervical spine fusion presents some risk of complications, such as:
Pain at the donor site (autograft procedure)
Graft rejection (allograft procedure)
Breakage of metal implants (if used)
Blood clots, excessive bleeding, and infection
Patients can reduce their chance of developing complications by choosing a reputable surgeon like Dr. Rovner, who can perform your operation with skill and precision held to the highest standards of safety.
Schedule Your Consultation Today
Dr. Rovner and his team have the training and compassion to help you find relief from your neck pain. Contact our practice today to schedule your consultation, and start the path toward improved health and wellbeing.