Advanced Lumbar Spine Surgery to Relieve Your Pain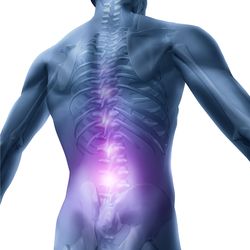 Renowned surgeon Dr. Aron Rovner believes patients should overcome their back pain using the least invasive treatments possible. He performs lumbar spine surgery at his New York and New Jersey practice only when necessary, and uses minimally invasive methods whenever applicable. For the patient, this means smaller incisions, less blood loss, less pain, and a faster recovery. To learn more about how our therapies can help you, contact New York Spine and Sports Surgery and schedule a consultation with Dr. Rovner today.
Conditions We Treat
With vast orthopedic experience, Dr. Rovner provides elite surgical treatment for a variety of lumbar injuries and conditions, including:
Degenerative Disc Disease
Radiculopathy
Spondylolisthesis
Stenosis
Sciatica
Surgical Treatment Options
Our patient can expect to receive highly personalized care and state-of-the-art therapies that allow for accelerated rehabilitation and exceptional outcomes. Patients suffering with lumbar back conditions can find relief from their discomfort with the following minimally invasive procedures:
Endoscopic lumbar microdiscectomy: Using a microscope, Dr. Rovner will create a very small incision, through which he will remove the part of your herniated disc that is constricting a nearby nerve. He will also take out any fragments that may have broken off from the disc and that are compressing the nerve. Because the procedure uses microsurgery techniques and small incision sites, it is typically performed on an outpatient basis.
Laminectomy and laminoplasty: These two similar procedures can be effective treatments in relieving pressure on the spinal nerves, including the sciatica. During a laminectomy, Dr. Rovner will remove part of the lamina, the bony covering of the spine, so it no longer compresses the nerves. Similarly, a laminoplasty alleviates nerve compression by reshaping a part of the lamina by creating a hinge that increases the space around your nerves.
Lumbar fusions: If you have a herniated disc, spondylolisthesis, or scoliosis, this procedure can restore your mobility and eliminate your discomfort. Approaching from the back, the doctor will first remove all or part of the damaged vertebral disc before fusing the two adjacent vertebrae with a bone graft, or synthetic substitute.
Transforaminal Lumbar Interbody Fusion (TLIF): This type of lumbar fusion is often suitable for patients with degenerative disc disease or spinal stenosis.
coflex®: A minimally invasive alternative to lumbar fusion, Dr. Rovner frequently recommends this treatment to patients with stenosis. After removing bone from your lamina, he can surgically place the coflex® device in your spine to alleviate pressure on your nerves.
​​​​​​​
Coccygectomy: Few doctors have the necessary skill to perform a surgical tailbone removal. Patients may need this procedure performed following an unsuccessful recovery from a fall or another traumatic injury to the tailbone. People from around the world come to Dr. Rovner for this procedure. Despite its rarity, a cocygectomy has a very high success rate, with most patients experiencing tremendous relief from pain.
Find Relief from Your Back Pain
If you would like to learn more about our advanced, minimally invasive lumbar surgeries, schedule an appointment with Dr. Rovner today.