Minimally Invasive Spine Surgery Reduces Risks and Recovery Time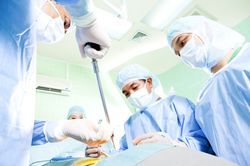 Dr. Aron Rovner performs minimally invasive spine surgery at his New Jersey and New York practice. He uses advanced techniques to provide effective relief while minimizing damage to surrounding tissues, resulting in a much shorter recovery time and fewer risks than traditional spine surgery. If you are experiencing symptoms of spine complications, or if your doctor has recommended that you pursue spinal surgery, Dr. Rovner and his staff can help determine if minimally invasive spine surgery is right for you. To learn more, reach out to us today.
Types of MISS
The central location of the spine within the body requires at least some interference with skin, muscle, and other tissue during surgery. Minimally invasive spinal surgery (MISS) uses specialized techniques and tools to minimize this interference and reduce the risk of healing complications. Dr. Rovner incorporates the latest minimally invasive techniques to treat a wide range of issues, from degenerative disc disease to spinal tumors:
Tubular retraction involves using a special instrument to gradually dilate soft tissues. This creates a temporary space through which Dr. Rovner can access and treat the spine. Afterward, the instrument is removed, allowing the tissues to return to their proper positions.
Percutaneous placement of screws or rods involves making small incisions through the skin to place stabilizing hardware onto the spine. This technique is used in procedures such as lumbar spine fusion.
Alternative access routes from the side or front of the body to the spine can be used if you are not a candidate for surgery incorporating incisions in the back. Dr. Rovner will conduct an extensive evaluation of your condition, health history, and other factors to determine which approach to spine surgery is best for you.
How can MISS Help?
Whenever possible, Dr. Rovner will pursue nonsurgical options before recommending surgery. However, some conditions require more extensive treatment. Every surgery carries a degree of risk, but MISS can minimize these risks by resulting in:
Less blood loss
Shorter hospital stays
Faster recovery and less rehabilitation
Less postoperative pain than traditional spinal surgery
Minimized reliance on pain medication
Better cosmetic results with incisions as small as 2 centimeters
Thanks to great strides in technology over the years, MISS is more effective than ever, but not every surgeon has the specific training needed to properly perform MISS.
Choosing a Spine Surgeon
Choosing an experienced surgeon is the best measure patients can take to ensure a successful outcome. Dr. Rovner is a recognized leader in his field, and makes important contributions to the fields of spine and orthopedic surgery. He serves as president of New York Spine and Sports Surgery, PLLC, and as a diplomate of the National Board of Medical Examiners. He is certified by the American Board of Orthopedic Surgery, holds membership in the Medical Society of the State of New York, and serves as a fellow of the American Academy of Orthopedic Surgeons.
Contact Us Today
If you are experiencing spine complication symptoms, or if your doctor has recommended exploring spinal surgery, MISS can provide relief while minimizing your risk of complications and easing your recovery significantly. To learn more about minimally invasive spine surgery by Dr. Rovner and how it can benefit you, contact us today.