Advanced Rotator Cuff Surgery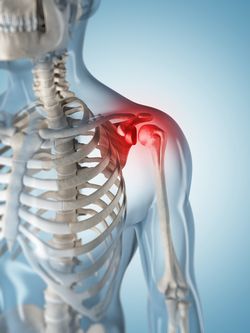 Rotator cuff surgery is a common reason why patients come to experienced orthopedic surgeon and sports medicine specialist Aron Rovner. Torn rotator cuffs can be painful and limit range of motion. Meanwhile, they do not heal on their own. To restore the strength and function of your shoulder, surgery may be necessary. Dr. Rovner has the advanced training to offer the very latest surgical techniques, which can reduce recovery time and discomfort. If you are suffering with shoulder pain, or if a physician says you need rotator cuff surgery, contact our practice serving the greater New York City area today.
About the Rotator Cuff
The rotator cuff consists of a group muscles and tendons that stabilize the shoulder. When these tissues are torn, sufferers experience pain, and find it difficult to lift their arm, although some patients only experience pain at night. If the tear is severe, or if non-surgical treatment has failed to improve strength and range of movement, a surgical procedure may be necessary.
The Rotator Cuff Surgery Procedure
Dr. Rovner can usually treat a torn rotator cuff with a minimally invasive arthroscopic procedure. This technique offers a number of advantages. It requires only small incisions and involves minimal trauma to the tissues surrounding the treatment area, so patients can expect reduced post-surgical discomfort and faster healing times.

After creating the incisions, the treatment site will be accessed with a fiber-optic imaging tool called an arthroscope. It consists of a flexible tube with a small camera on the end, which transmits images onto a computer screen. Dr. Rover uses this technology to guide special surgical instruments in re-attaching a fully torn tendon to the head of the humerus. For partial tears, the doctor may trim and smooth the tissue using a debridement procedure.
Recovering from Rotator Cuff Surgery
Following surgery, patients will be instructed to wear a special sling for a specific amount of time. This protects the shoulder from further injury and facilitates proper healing. Dr. Rovner will schedule follow-up care and monitoring to ensure a smooth recovery free of complications. As part of recovery, patients will attend regular physical therapy sessions to restore their range of motion and strength. As an athlete, Dr. Rovner understands how frustrating it can be when injuries prevent you from engaging in sports and other physical activities you love. However, it is very important to remember that following his post-op instructions to the letter, avoiding over-exertion, and generally exhibiting patience during recovery is the surest way to make a strong return to your active lifestyle and perform your very best. Recovery times will vary for each patient, but most can expect to start to feel more normal at about the six week mark, and return to rigorous exercise four to six months after surgery.
Schedule a Consultation Today To Learn More
Dr. Aron Rovner is a highly respected orthopedic surgeon who has helped many patients recover from a variety of shoulder, knee, back, and neck injuries. If you are in need of rotator cuff surgery or any another shoulder surgery, we invite you to schedule an appointment with Dr. Rovner today. His sophisticated treatment can get you back in the game as soon as possible.