ACL Surgery Recovery Timeline
Following the tearing of the anterior cruciate ligament (ACL), Dr. Aron Rovner can repair the torn ligament during an outpatient procedure using minimally invasive techniques. ACL surgery recovery time varies in every case, but following surgery at our New Jersey practices, patients can usually expect restored mobility in about six months. To learn more about the procedure and what to expect during recovery, please contact us today.
Thanks to Dr. Rovner's experience and advanced techniques, patients can expect to regain full range of motion after about six months.
Recovery Timeline
Following surgery, patients will undergo a lengthy rehabilitation and recovery time that can take up to one year. During this time, you will go through a series of recovery phases, and ongoing rehabilitation sessions. It is very important to follow Dr. Rovner's recommendations as closely as possible, and never push yourself beyond the physical activity you have been cleared to resume.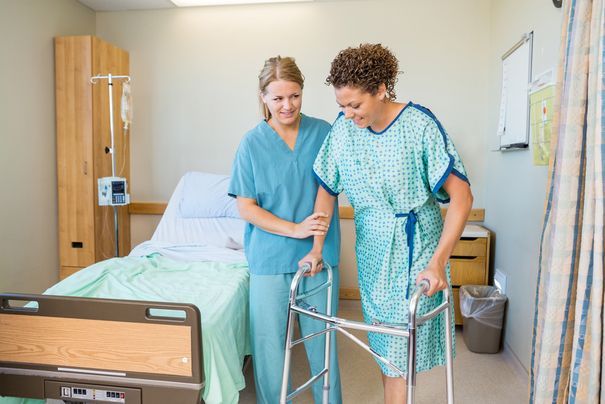 Our staff is focused on helping you experience a fast and successful recovery.
THE FIRST TWO WEEKS
During the first couple of weeks after the surgery, patients will experience a fair amount of pain and swelling. Some light movement, elevating of the leg, and icing can help reduce the swelling while the soft tissue continues to heal. As the swelling subsides, you may be able to straighten your leg after about two weeks. It may also be possible at that time to stop using crutches and bear full weight on the knee with the use of a straight leg brace.
AROUND TWO MONTHS
Between one and two months following the procedure, most patients can begin climbing stairs, and should be able to walk more comfortably. It will still be difficult to bend the knee, but patients can expect this to happen later in their recovery. Physical therapy may include single-leg exercises, single-leg squats, stair climbing, and jogging in a pool.
THREE TO SIX MONTHS
The three-month mark is when many patients start experiencing a wider range of motion, reduced swelling, and less pain. At this point, patients may be cleared for jogging. Rehabilitation exercises may include half-squats at half of your body weight, biking, and agility training and exercises. As your quadriceps continue to strengthen around four months and your balance improves, you may be cleared for longer distance jogging, bike work with increased resistance, and more intensive exercises.
SIX MONTHS AND BEYOND
Many patients will experience full range of motion, full quadriceps strength, hamstring strength, balance, and significantly reduced pain around sixth months. During this time, Dr. Rovner will evaluate your progress and determine whether you are fully rehabilitated. Following your evaluation, you may be cleared to return to your normal sports activities, while maintaining an ongoing strengthening program.
Scheduling Your Consultation
An ACL injury can sideline an athlete or active person for many months. However, under Dr. Rovner's care, you can expect a full recovery resulting in beneficial outcomes. To learn more, please schedule your consultation today.